Output 3D
This option is only active when the 3D option is chosen and OpenGL is deactivated. With this option, it is possible to store the 3d-model in some interesting formats for import into other packages (such as graphical editors and 3d-authoring software). By clicking the button, the following window is opened: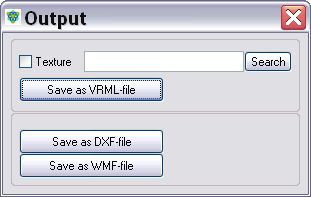 The models can be stored in three different formats that are briefly described below:
VRML-format. VRML stands for Virtual Reality Modeling Language. This is a programming language developed especially to work with 3-dimensional models and everything that is related to them (texture, lighting, camera positions, ...). The standard extension is WRL and is added automatically by VisuMath. As soon as the model is saved, VisuMath switches to the VRML-environment, where the VRML-model is shown, at least if your PC is equipped with a VRML browser. The surface can now be seen from different view points and one can zoom in and out. The coloring scheme that was used, is also saved in the VRML-model. Level curves however are not saved in the model.

Also, a texture file can be entered. If this is done, VisuMath will use the content of this file as texture for the surface. VisuMath accepts only JPG-files. By applying texture, a surface often gets a more natural look. Below, one sees an example.

DXF-format: The DXF-format is developed by AutoCad and offers just like VRML the possibility to work with 3-dimensional models. This format is usually available on professional 3d-authoring software or 3d-rendering software, making it possible to manipulate the models made by VisuMath with these packages. The standard extension DXF is added automatically by VisuMath.

WMF-format: WMF files are Windows MetaFiles, a vector format developed by Microsoft. By saving the graph in WMF-format, one loses the 3d-information but the images stay scalable. Consequently, a small image can be enlarged or reduced in size without loss of quality. WMF-files can easily be imported in vector oriented environments (such as MS PowerPoint).
We remark that exporting to a DXF or a VRML model can take a considerable amount of time on larger models (e.g. 100,000 triangles or more). This is because the internal structure of a 3D-model differs considerably from the DXF or VRML specifications, and the translation routines are not optimized for speed. Also, you are not being notified when the translation and the export have finished.